Profile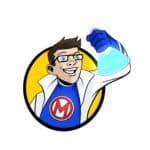 Mick Schubert
Curriculum Vitae
Education

I travelled a lot when I was a child, so I went to lots of different schools. My primary school was in Vienna, Austria, and my secondary school was in Edmonton, Canada. I went to university in Canada, and then I did some more university in America. Finally, I ended up in England!

Qualifications

In Canada, we earn high school diplomas instead of GCSEs and A levels, so that's the first thing I did. I did a special type of international one called an IB Diploma, which is something you can also do in England if you're interested. After that, I got a Bachelor's degree in biology, a "post-baccalaureate" (which just means "after-degree") in environmental geology, and a doctorate in molecular biology (studying the molecules inside our cells).

Work History

I did all sorts of jobs when I was younger, from working in a bicycle shop to teaching skiing. After I finished university, I worked in a laboratory for a long time. Why didn't I stay there? As much as I liked doing science, I liked talking about it even more - so now I have a job where I can do both!

Current Job

I'm a science writer and editor, and I run a science and medicine magazine called The Pathologist. When I'm not working on that, I do science consulting for films, television, and comic books - so they bring their science questions to me and I help them find the best (and coolest!) answers.

Employer
Favourite thing to do in my job: Make superhero science real!

About Me: I'm a biologist who studies everything from dinosaurs to aliens to the human body - and my job is to help bring those things to life!

Read more

I live in Manchester with my husband and my dog, Eddie.  I was born in Canada, so I like the cold. I love to cook, bake, ride my bicycle, and play video games, but my favourite thing to do is play ball in the park with my dog!

My Work: During the day, I write about science and help make it interesting and easy for everyone to understand. At night, I work on films and comic books, helping to create realistic monsters, magic, and superheroes!

Read more

I work as a science writer and editor, which means that I take complicated science and help turn it into stories that are easy for everyone to read and understand. That way, everyone can learn about new discoveries – and who knows, maybe someone who reads one of my stories will be the one to make the next discovery!

I also work as a science consultant, which means that people come to me with their questions about science and medicine. Usually, these are people who want to make films, television, or comic books. They want to know: what would aliens really look like? How could a person really get superpowers? What would it look like if people travelled through time? These are the sorts of questions I help answer using real science!

My Typical Day: I like to get up early and take the dog for a walk in the mornings. Then, I check to see what kind of awesome science has been done since I last looked and get ready to write some stories. All day long, people email me questions about science, and sometimes I have to do some pretty creative experiments (like mixing up fun chemicals or looking closely at spiders under a microscope) to come up with the best answers!

Read more

For me, every day is different. Sometimes, I spend my whole day sitting in front of a computer and writing – but other days are a lot more fun! I get to travel all around the world to learn about the newest and most advanced science and medicine people are doing. It's always fun to see what's different about laboratories in other countries and what's exactly the same as at home.

Every so often, someone will invite me to come to a movie set or to a publishing office (where they make books and comics) to help them with a science question. That's the most fun of all! I love when I get a chance to see the magic behind a movie before it goes to the cinema, and I love knowing that, because I'm a scientist, I got to help make that magic happen!

What I'd do with the prize money: I would use the prize money to buy science equipment that I could bring with me to show people cool experiments everywhere I go. I would also like to make a short, science-themed comic that I could give away to help get people excited about science!

Read more

I often travel to classrooms or conventions where I'm asked to talk about the real science behind comic books and television shows. In fact, right this very minute, I'm at a convention where I'm talking about the science in Doctor Who!

I would love to win the prize money so that I could buy some science equipment to  bring with me when I go to these places, so that I could actually show people the experiments I talk about. Science is fun to hear about, but it's extra fun when you can do it yourself!

Because I work a lot with people who make comic books, I know how much fun they are to read. I would like to use some of the prize money to help create a short comic book about science that I could give away to people, so that everyone who is interested can have something to take home, read, and maybe inspire them to do their own science!

My Interview

How would you describe yourself in 3 words?

enthusiastic, energetic, funny

What or who inspired you to follow your career?

My first inspiration was a paleontologist (dinosaur scientist) called Phil Currie.

What was your favourite subject at school?

I loved science, but I also loved English!

What did you want to be after you left school?

I couldn't decide between being a scientist and being a writer, so I did both.

Were you ever in trouble at school?

I did get in trouble when I was younger, because my ideas about school weren't always the same as my teachers'!

If you weren't doing this job, what would you choose instead?

If I weren't doing this job, I would work in a laboratory discovering new things about the human body.

Who is your favourite singer or band?

I have lots of favourite music, so it's very hard to choose just one.

What's your favourite food?

I love pizza, because there are so many different choices for toppings!

What is the most fun thing you've done?

I went to Marvel headquarters in New York to help them do comic book science!

If you had 3 wishes for yourself what would they be? - be honest!

I would like to be able to travel to see all of my friends around the world whenever I wanted. I would like to have more time in a day. And I would like more wishes!

Tell us a joke.

What do you call a fish with no eyes? A fsh!
---
---
---